InvoiceER is the emergency room for
your invoices.
Every invoice is received, diagnosed and treated as required. You get clean invoice data that's ready to work when you are.
InvoiceER is the easiest and fastest way to improve your AP department. Stop struggling with the symptoms of poor invoice processing and cure the problems before they start.
Service Development Director Rob Sanders from Jones Lang Lasalle LLP, a global leader in property management, speaks about their experience with InvoiceER. How the service was delivered, supplier on boarding and the benefits JLL are now enjoying.
Who is InvoiceER for?
InvoiceER is perfect for any business that is serious about dealing with the root cause of AP problems.
Fed up with error prone, time consuming, staff intensive manual entry?
Worried about duplicate invoices and payments?
Frustrated what supplier invoice errors that cost your business money to resolve?
Concerned that a workflow solution isn't yielding results?
Then you need InvoiceER.
Remove the burden of manual entry for good. Stop paying for supplier invoice errors. Never get a duplicate invoice again. Finally get the workflow performance that was promised.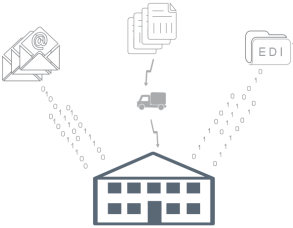 ARRIVAL
Receipt for all invoices
Centralised invoice receipt for every format of invoice you receive. Paper , e-mail, XML, EDI, and even Fax for the diehards still using it. Invoice data is captured and validated for accuracy.
DIAGNOSIS
Uncovering problems before they infect your process
Every invoice is analysed to identify errors and non-conformance. Invoices are checked for HMRC compliance, Duplicates, valid PO Numbers, Incorrect values, Future Dates, correct currencies, and any user specified content, such as Property Address for Property Management Companies.
TREATMENT
Curing problems for clean data
InvoiceER automatically routes non-conforming invoices back to the source of the problem. This means that if it's a supplier error, they gets it back for correction and you do not see it until it is right.
We help businesses reduce costs and improve productivity by automating invoice processing and approval whilst at the same time reducing exception handling.